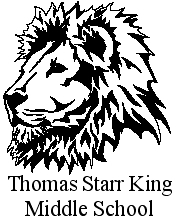 The magnet program at Silver Lake's
Thomas Starr King Middle School
has drawn students from far and wide with a focus on the arts as well as technology. But the leader and one of the founding teachers of the magnet program, artist and educator Alice Hayward, is being forced to leave the school as coordinator because of cutbacks, reports the
Los

Feliz

Ledger
. Hayward, one of the teachers who started the program in 2001, works an independent contractor, whose ranks are being reduced as the Los Angeles school districts struggles to save money.
"M
y view of the magnet program has been to produce classical scholars with 21st century skills," she told the Ledger. "We want them to be great thinkers and what we can do is teach them skills and analysis and evaluation for whatever their work lives may be."
Hayward played a role in the hiring of her replacement, teacher Carlos Hernandez. She approached Hernandez, who is technology
cooridnator
for the middle
school
, about succeeding her as coordinator of the
magnet
program. Hayward may end up working for Hernandez. She has applied to work at the magnet, this time as a substitute teacher.